Total moisture control.
In walls. And floors
That's our StandardSensor. And it's straightforward as ABC. Stick it. Scan it. See the relative humidity in the app. Perfect for both new and existing buildings.
The old way
Moisture sensors on the market today signal moisture on the surface layer of the bathroom. But it's easy to miss issues lurking deeper in the structure, which can turn catastrophic. A small hole in the sealing layer of a bathroom left unnoticed means demolishing and building a new one.
The InviSense way
Just stick on the sensor and get consistent moisture level updates on the surface deep within your structure. Where it matters most. Detect leaks or perform partial repairs. Plus, with the InviSense cloud, you can analyze and visualize data for informed decisions.
Remarkably thin.
Surprisingly affordable.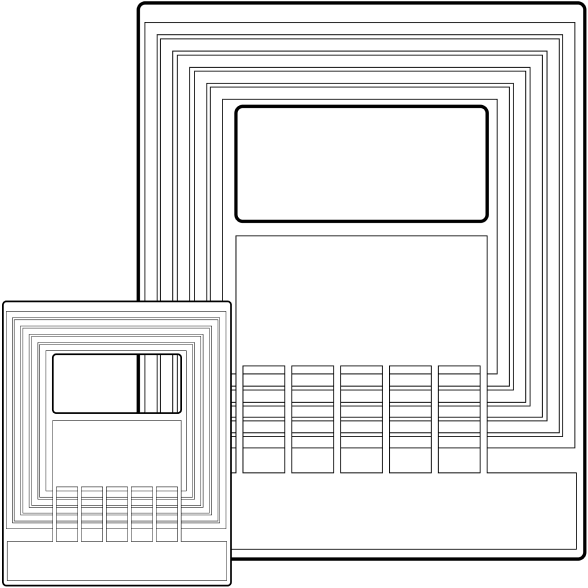 The StandardSensor
Developed from a decade of research at Linköping University and further refined by RISE Acreo and InviSense's founder for five more years, the StandardSensor delivers accurate, convenient measurements. No more hoping for the best, just confident readings. It's your tool for perfect leakage detection, damage control and localization, and partial repairs.
Key features
Unnoticeable thin sensor to make your walls and floors intelligent
Smart moisture tracking for enhanced drying insights
Mobile app readouts and cloud data storage
Reliable assurance for wet room repairs
No battery limits, built to last
Install, don't destroy
The ultra-thin sensors sit hidden deep within the building's structure, providing precise moisture measurements without causing any damage. Perfect for places like bathroom sealing layers, where the risk of invisible and undetected leaks is high and can cause costly damage.
Intelligent moisture checks
Simply scan and save your sensor data in the InviSense cloud with all your installations and sensors for comprehensive analysis and future visualization.
Lasts a lifetime
The sensor is built for durability with corrosion-resistant materials. Expect the sensors to outlive a bathroom's lifetime (and beyond).
Thinly designed, lightly priced
It's a passive sensor not limited by battery time. And it's as thin as a sticky label, making these sensors inexpensive and a viable option to have installed as default.
Questions? Answers.
We know a few things about moisture control, the construction industry, and how construction managers can avoid project delays. We're to help. Get in touch.
Where are the sensors typically used?

StandardSensor wears many hats. You can use it for a building handover to ensure no moisture problems, dealing with moisture damage in a bathroom, and risk areas like bathrooms and kitchens for quality assurance.

They are also valuable during final inspections or follow-up checks post-repair. But really, it's suitable to install the sensors anywhere you need to measure moisture faster, more precisely, and more simply than with traditional instruments.
What's the primary application of the sensor?

The sensor is designed to provide a quantitative check of the moisture level in the walls or floors of your building during inspections. With sensors in your building, you can quickly verify and address the extent of any damage.
Can I install the sensor myself?

Indeed. The self-adhesive sensors are designed for easy placement wherever you need to measure moisture. Just follow these simple installation steps.
How do the sensors work?

The sensor consists of a moisture-sensitive material that absorbs water molecules. The printed electronics enable our moisture scanner to measure the moisture content in the sensor. The scanner measures the sensor's response, which varies with the moisture content and translates into a moisture level value you can understand. It's high-tech, made simple.
What does it mean that the sensor is passive?

Being super slim (less than 0.1mm) and passive means it doesn't need batteries or emit radiation. It quietly does its job, waiting for the InviSense moisture scanner to wake it up for an accurate moisture check.
How can I track each sensor's location?

InviSense Cloud keeps you in the know with a precise sensor placement map. Before scanning, select your sensor. After the scan, the data is saved to the chosen sensor and uploaded to InviSense Cloud. This offers a systematic overview of your data, enabling you to keep track of moisture.
Can it show trends over time?

Absolutely. Measurements are saved to each sensor and easily accessible in the InviSense Cloud service. That means all your data is just a click away, enabling you to monitor moisture changes and trends over time with ease.
Are there any limitations?

While the sensor is powerful, it has a kryptonite — metal. The inductive readings can get disrupted, so it's best to avoid installing the sensor behind or too close to metal.
How long can this sensor keep up the good work?

There's no "expiry date" for our sensor. It doesn't run on batteries, and it's designed to withstand time. We've seen zero signs of wear in our tests. Essentially, it'll keep on ticking for as long as you need it to.
Isn't there an old-school way to do what InviSense does?

Sure, but the traditional method is reactive. People don't act until a leak or moisture issue is evident. And then it turns into a demolition project. We're all about avoiding destruction. With InviSense, you get accuracy without tearing apart your space.
Where can I purchase the sensors?

Please get in touch with our reseller SlutaRiv for sales in Sweden. For purchases outside Sweden, contact InviSense at +46 (0) 13101035 or email us at info@invisense.se.
Step into a way simpler construction journey
See how the InviSense sensors will simplify decision-making, remove guesswork, and make your drying process a non-issue. Contact us, and one of our experts will be on the other side to help you.