Make your concrete drying process a non-issue with moisture sensors
Place the sensor in your concrete. Get accurate, automatic moisture measurements without destructive drilling. Monitor the clear graphs and know when the concrete is dry and ready for the next step – with proof that your construction holds quality years later.
The old way
Moisture is a beast to tackle. It fills projects with delays and costly surprises. The concrete must be dry, but you rely on guesses without testing. Or pay for multiple expensive drilling tests before the final certification. If your concrete isn't drying as it should, you resort to last-minute panic drying to hit deadlines – and that's inefficient.
The InviSense way
Install the sensor into your concrete slab and measure moisture instantly. Get complete control over your dry-out process to plan your heating for maximum efficiency and cost savings. You always know the relative humidity with the sensor in your concrete. Even for new eco-friendly concrete products. And no more multiple drilling tests. Only one for final certification.
Hands down, the best way to measure humidity and temperature in concrete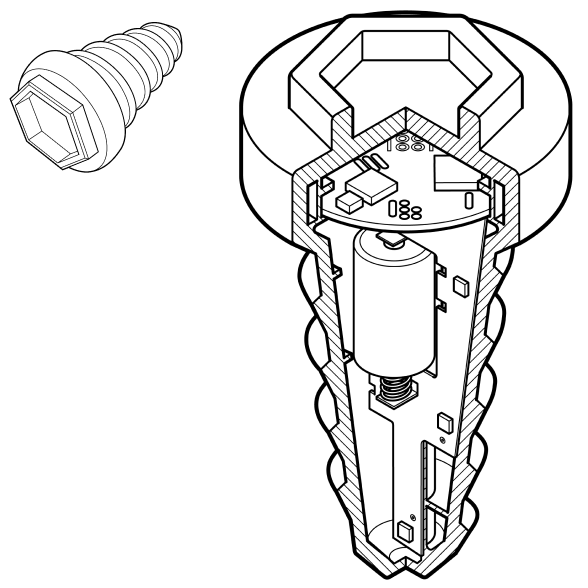 The ConcreteSensor
With this robust battery-powered marvel, you get precise humidity and temperature measurements across three levels. The active sensor technology also gives you the benefit of continuous monitoring for up to two years. Or longer with less frequent measurements. And with InviSense cloud, you can easily tap into detailed, real-time data on your concrete's drying process from anywhere.
Key features
Damage-free moisture measurement at three different depths
Temperature measurement with automatic data collection
Secure and long-lasting installation with hand-screw setup
Real-time moisture status visualization
Non-destructive to the concrete
See the complete moisture profile
Get a complete moisture profile. One sensor measures moisture on three levels, giving you a dry-out curve and moisture profile for your entire concrete slab. Know that everything is going to plan or if you need to turn the heaters on.
Measure temperature in three levels
Improve your planning efficiency with temperature readings. Ensure that your heating actions dry your concrete as they should. Discover inefficiencies before they happen and correlate temperatures to moisture readings for preventative power.
Get readings automatically
Measure moisture from your office. The sensors upload readings automatically to the cloud, giving you the relative humidity displayed in graphs for every sensor. See the complete drying process from start to finish for accurate planning and effective actions.
Project track in the cloud
Simplify planning in the cloud service for all your projects, big and small. Filter and compare data for insights. Add measurement data for more value. And get a timeline and calendar view for maximum control. Drag and drop is all it takes to start.
Non-destructive sampling
Know the moisture without destructive drilling. And without filling up the holes. Place the sensor in your concrete and let it dry. No damage, no problem. Compared to the normal way of doing multiple drilling tests, the sensors are non-destructive.
Connected everywhere
Ensure smooth connectivity with extremely long-range LoRa connection. For remote locations or areas with poor coverage, get a 3G gateway connection that amplifies the signal even further for continuous sensor monitoring.
Rugged and secure
With sturdy casings and high-quality materials, the sensors are designed to withstand harsh and demanding conditions often found on construction sites. And with the screwing functionality, they stay firmly in your concrete for reliable readings.
Questions? Answers.
We know a few things about moisture control, the construction industry, and how construction managers can avoid project delays. We're to help. Get in touch.
How often does the ConcreteSensor give me relative humidity measurements?

Get relative humidity readings for concrete as often as you want. Choose the measurement frequency you prefer for each sensor in the online service.
When do I install the ConcreteSensor?

You can install the ConcreteSensor as soon as you have poured the concrete. Place the sensor in the concrete within two hours and get moisture readings instantly.
Discover a construction project booster
Moisture is easy to control with the right tools. See how the InviSense sensors can simplify decision-making, cut project time, and make your concrete drying process a non‑issue. Contact us, and one of our experts will be on the other side to help you.